Odds are you already know of The Revival Tour going on this fall featuring
Chuck Ragan
(Hot Water Music),
Ben Nichols
(Lucero) and
Tim Barry
(Avail). Odds are you know it's going to be an incredible show to experience as these three are some of the most influential song writers in contemporary punk music and what really is punk rock but folk music with fast drums and distorted powerchords?
Well the fine gents making up The Revival Tour figured it's not enough to just provide us all with a sure to be memorable performance, but we should have some music to take home with us. Chuck and his wife recently pressed a CD called "Revival Road" on their own Ten Four Records. The disc features songs from Chuck, Ben and Tim and will be available every night of the tour. Vinyl you ask? Duh of course vinyl is going to be available.
Vinyl Collective
and
Side One Dummy
will have the record available on vinyl and you'll also be able to grab it at the later dates of the tour.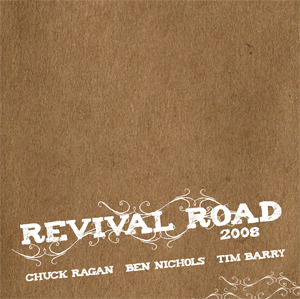 There are 500 pressed on brown vinyl with Kraft paper silkscreened jackets and 1,000 printed on white vinyl with black paper silkscreened jackets. You can currently
pre-order
either individually or a special package of both for $25 from the good folks at
Vinyl Collective
. Yea, I got the package of both. As if I had a choice? Details of the NYC date can be found below.
The Revival Tour
f/ Chuck Ragan, Ben Nichols, Tim Barry and special guest Frank Turner
Monday Oct 13th
8:00
The Blender Theater at Gramercy
127 E 23rd St. Manhattan, NYC
subway:
6
train to 23rd St
R/W
trains to 23rd St
L
train to 3rd Ave